Ever since we left NYC I have been craving the ethnic and cultural foods we had on a more regular basis. Thai, Vietnamese, Indian, Japanese and Korean foods were all pretty regular staples. I am sure there are some restaurants that exist in our new area, but I'm definitely missing our go-to spots in our old stomping grounds. So, a few nights ago I took matters into my own hands and made a Thai chicken bowl with rice noodles that was kid approved!
I live in an area that relies heavily on massive grocery stores, rather than take-out and delivery. After living in NYC, it's pretty amazing to walk down a grocery aisle without having to suck in my gut to let people pass. Because of their massiveness, the stores thankfully have a large assortment of ethnic foods and ingredients. I was able to fill up on that needed gingery, garlicy, coconutty, spicy flavor combo. This recipe was also inspired by Sadia, creator of Pick Up Limes, who has quickly become one of my favorite bloggers and YouTubers.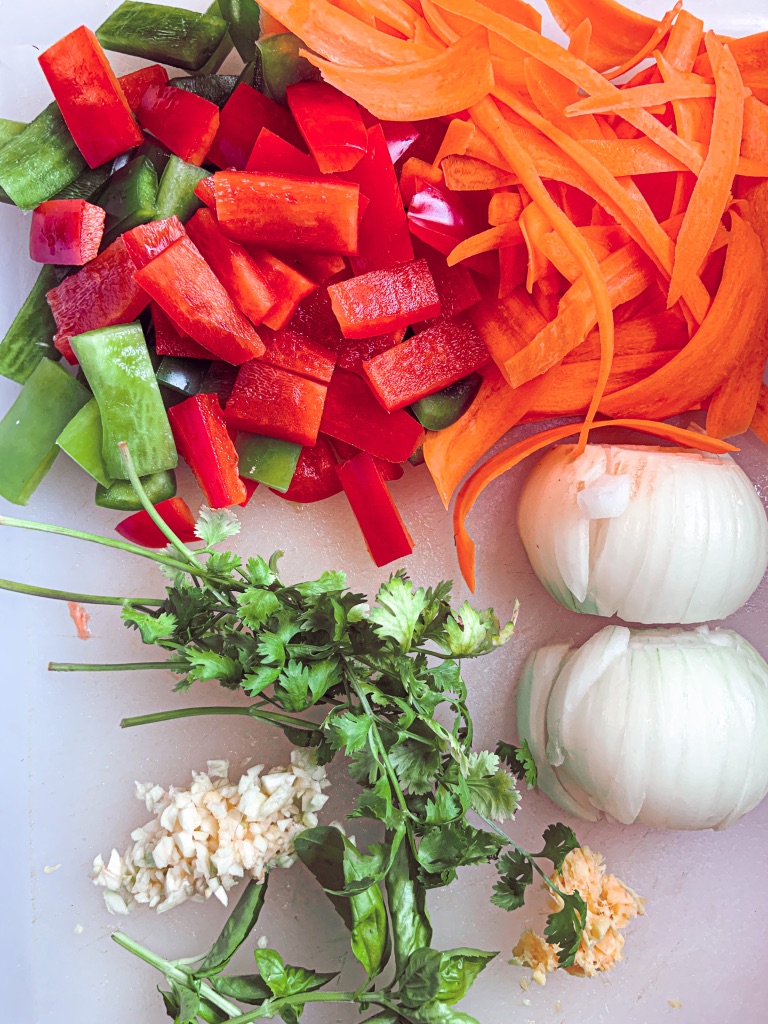 Thai Chicken Bowl with Rice Noodles Recipe
Ingredients
1

whole onion

2

peppers

varying colors

2-3

carrots

depending on size

1

tbsp

minced ginger

1

tbsp

minced garlic

1

bunch

freshly picked basil

1

bunch

freshly picked cilantro

3

tbsp

Thai red curry paste

1

can

unsweetened coconut milk

1

package

rice noodles

8-10

oz

chicken strips

or whatever protein you prefer

lime wedges

(optional)

salt & pepper

sesame oil

or whatever oil you prefer
Instructions
Prep
Slice onion, peppers and carrots into thin strips 

Grate or finely mince the garlic and ginger
Cook
In a large skillet, add a little oil and lightly brown the chicken (or whatever protein you are using in this recipe) and season with salt and pepper on both sides and set aside on a plate

To the same skillet, add a few more drops of oil, the onion, pepper, carrots and salt and pepper and cook for several minutes until the onions are translucent and the peppers and carrots soften, then stir in the garlic and ginger

After about a minute, when the garlic and ginger become more fragrant, add the coconut milk and the 3 tbsp of red Thai curry paste

Add the chicken back in along with the basil leaves and a few sprigs of the cilantro (save the rest for topping) – stir to mix everything together

Simmer to let the flavors meld while you cook up the rice noodles

When the rice noodles are tender, add them to the pan and flip around with some tongs to get them covered in the sauce

Taste test and add some salt and pepper to taste

Portion out into bowls, garnish with a lime wedge and some cilantro leaves and enjoy with the family! 
This was a big hit with our family. Our 3-year-old daughter really enjoyed it. Kids always love noodles and the flavors are so enticing it may get them to eat some of the veggies. If not, exposure, exposure, exposure. Keep serving them delicious and veggie-filled meals. If you keep-up the deliciousness in the meals cooked at home, and kids see you eating and enjoying it, they will eventually get there too. Oh, and the best part about this meal – there's only a pot and a pan to clean up! I hope you enjoy this recipe as much as we did!
Are there any outside meals you're missing since the lockdown started? What are you cooking at home to substitute? Leave a comment and let me know! And be sure to follow me on Pinterest, Instagram and Facebook. It always means a lot when you do. Lots of love and see you all again soon.